Australian Musicians, Violent Soho, are utilizing their artistry to portray their perception of what many sacrifice for comfort and what comfort commonly means to mass society. I caught up with Drummer, Michael Richards, to chat about the recent release of 'Everything Is A-OK', the band's relationship with Pure Noise Records, staying occupied in quarantine and more.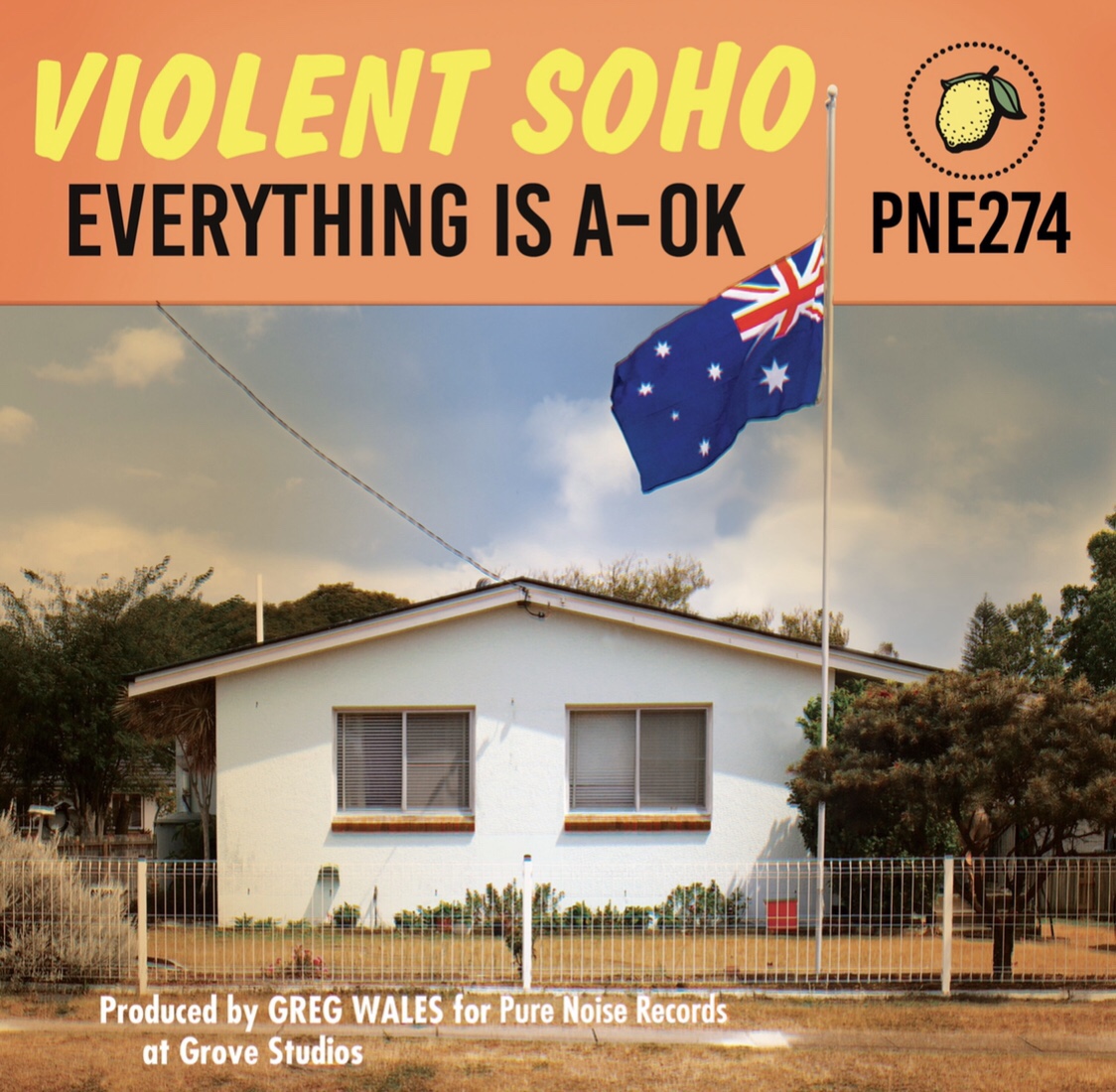 Congrats on the release of your new album, 'Everything Is A-OK'. Tell us about the message that you intended to portray throughout the release. 
In a very broad sense the messaging of the album is intended to point toward the poverty inherent in middle class suburban comfort in and by the way that it encourages a hollowing out of human impulse for the sake of economic convenience. The irony of our current moment also offers a tendency to further point toward questions of just how secure that consideration for life really is. It seems middle class ambition is perhaps now more a skeuomorphic provision for what is in reality a plugged in and forever clocked on and inescapable banality. Mundane and unfairly rewarding.
I know that the Coronavirus has been really impactful on all, yet tell us the lowdown on how you have been utilizing all of your time in quarantine.
Up to this point, having a new album to promote has been a nice project to work on and has served a decent role in distracting me just a little bit from how completely fucked up things actually are right now. I feel very lucky that having this time to share a new creation of ours with the world has offered me up an olive branch of positivity. I hope people are feeling that vibe coming from us as well. Our messaging may point to our own experiences of the cynical ironies of the world, but taking life in your stride and staying positive is definitely something that we also want to convey to our audience. I hope people have been able to take some positivity from the album in that sense. God knows it's important to have some positive convictions in your life at a moment where much of the world is going to shit.
What is your perception of the digital world that we live in and social media culture?
The current social climate requires you to project a desirable version of yourself onto a major corporate media platform so as to impose on others your unique and remarkable existence in such a way that will best utilise (something that is a total phenomenal abstraction) that we refer to as 'the algorithm' in gaining the maximum number of likes and followers, thereby commodifying your own leisure time into a self-illusory hub of pixels and fake friends. Pretty disgusting actually.
No career path or amount of followers negates the fact that you are a human being that has feelings. Tell us about some parts of you beyond being a musician that you take pride in. 
I am proud of my family, my son, my ability to work hard on something and to finish what I set out to do. I'm proud that I'm not a sell-out. I also love my wife quite a lot.
Tell us about your experience working with Pure Noise Records so far. How has working with the label enhanced your artistry? 
Pure Noise are a label who focus on building up strong working relationships. They are a no bullshit organisation who only expect you to do what you do best and to be the best version of what you do. They don't back talentless pretty-faced garbage, so it's very comforting to know that you can bring your output to them with the full confidence that your own honest work is going to be based one hundred per cent. It gives you a sense of confidence in projecting your work honestly, knowing that it will be backed. It's down to us to deliver strong, they encourage us to believe in ourselves.
Last but certainly not least, any closing messages for your fans?
We fucken miss you all heaps. Let's party hard together once all this bullshit is over. Wash your hands and stay home if you can.
Violent Soho Social Links: