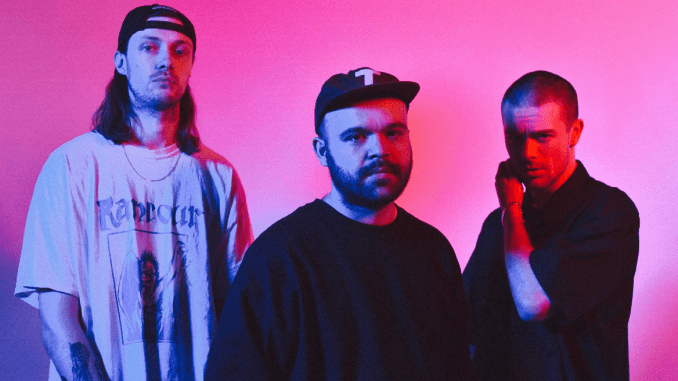 London Rockers, Puppy, are swinging for the fences with infectious riffs that sink into the skin of their growing global fanbase. Having signed a worldwide deal with Spinefarm Records, Puppy is slated to make some noise throughout the world of Rock early on in the game in 2019. On the brink of what is to be an exciting year for the band, I caught up with Vocalist, Jock Morton,to discuss the upcoming release of 'The Goat', how the band is overflowing with cooking prowess, the bond between the three of them and more.
Congrats on the upcoming release of your debut album, 'The Goat'. Tell us about the creative and recording process and what you learned along the way.
Thanks very much. It was a long process in particularly in terms of recording. We were lucky enough to work with two very different and talented producers in the form of Tom Dalgety and Neil Kennedy, both of whom we learnt a lot from in terms of what they brought to the table during the recording process. From a writing perspective I felt we've grown a lot since we recorded the 'Vol II' EP, and thinking about groove was a big element to a lot of my favourite songs on the record like "Black Hole" and "World Stands Still". Another one of my favourites, "Bathe In Blood", has a real washed out shoegaze feel to it too which is a side of our songwriting we hadn't really had a chance to explore before.
Tell us about the bond between the three of you. How did Puppy come alive?  
Well our Drummer, Billy, and I have been playing together in various bands since we were about 12 or 13, so musically we have a really good chemistry. We were both really into rock and metal growing up, but as we got older we ended up playing in more indie leaning bands, so when we hooked up with our bass player Will, his background playing in Doom and Stoner bands really helped bring our love of bands like Black Sabbath and Metallica back to the fore. We were able to mix that with the Dinosaur Jr/ Teenage Fanclub elements of what we were doing before to help create the sound of Puppy, and knowing that the music really comes from the bond between the three of us is a pretty cool thing to share.
Your new music video for "World Stands Still" is hilarious and full of punk rock energy. Tell us about the concept and what you desired to express throughout the video.
Our Drummer, Billy, directed it, so it's his baby really. We wanted to come up with something which really represented the band visually without having us in it too much, and the idea of this sweet little girl made up like a goblin terrorising her neighbourhood really seemed to fit our music; I think at their heart the songs tend to be pretty sweet and fun, but with all these gnarly hallmarks of classic metal like big riffs and guitar solos. That's pretty much Puppy in a nutshell.

Tell us about your experience so far being signed to Spinefarm Records, one of the most well-known and respected labels in the game.
It's been great. Dante, our A&R, was completely invaluable during the recording process in particular. We were so used to just chucking together the first bunch of songs we had, and he really encouraged us to take our time and think about what we were doing. Without him songs like "World Stands Still" wouldn't even be on the album, and I think the fact that it's pretty much all of our favourite track from the album says a lot. He's our heavy metal Buddha.
No career path or amount of followers negates the fact that you are a human being that has feelings. Tell us about some parts of you beyond being a musician that you take pride in.
Yeah, I think that's actually really important to keep in mind in terms of not getting overwhelmed by the pressure of it or anything too. Billy is big into football and loves playing whenever possible. Me and him are big Arsenal fans and try to watch every game when we're away on tour. I think if it came down to them winning the premier league or us winning a Grammy it would be a very tough call to make; Will and I are very into gaming as well, so we spend a lot of our van journeys boring Billy with our discussions about Metal Gear Solid. Besides that all three of us are pretty keen cooks and have a not so secret war going on as to who's the best. Obviously it's me though.
As you are exposed to tons of stimulus, how do you proactively take care of your mental and emotional health when you're out on the road?
Yeah it's hard, but for me I try to let go a little in terms of what you'd expect from home comforts and take joy in the simplicity of just having to turn up and play shows and not worry about a day job for a couple of weeks or whatever. Once you get into the rhythm of that, then small things like finding a good place to eat or listening to some cool music or a podcast in the van all become nice little moments. I think the biggest thing you can do is pay attention to how others are doing around you and try to be there when they need it or give them space when they need that too.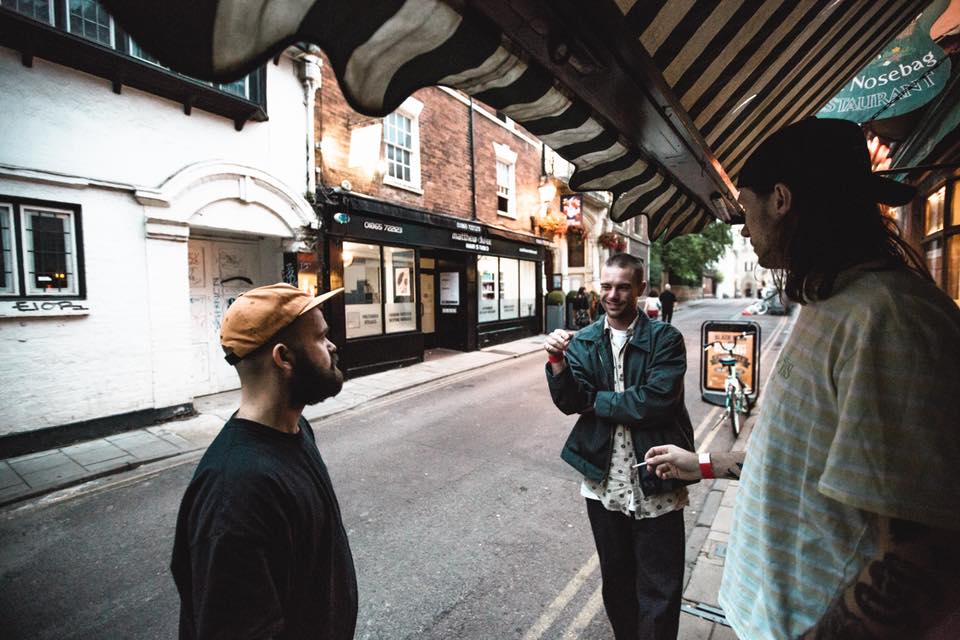 How old would you be if you didn't know how old that you were?
I'm pretty sure I'm still 16-years-old and playing at being a grown up, but then when I get a hangover I'm reminded very painfully that I am not.
If you could hop on tour tomorrow with any three bands/musicians, who would you choose and why?  
That's a real tough one. We've been listening to Hallas a lot in the van lately and we're all very into them, so they'd have to be there. We also went to see Ghost recently at the Royal Albert Hall which was incredible, so to be able to see that show every night we'd have to put them on there. Lastly I'd have to say Dinosaur Jr from a personal perspective. They've been my favourite band for years and I want to try and play a show with them before the original trio decide to break up again. Bit of a weird line up but hey-ho.
Last but certainly not least, any closing messages for your fans?
Keep watching the skies.
Puppy Social Links: