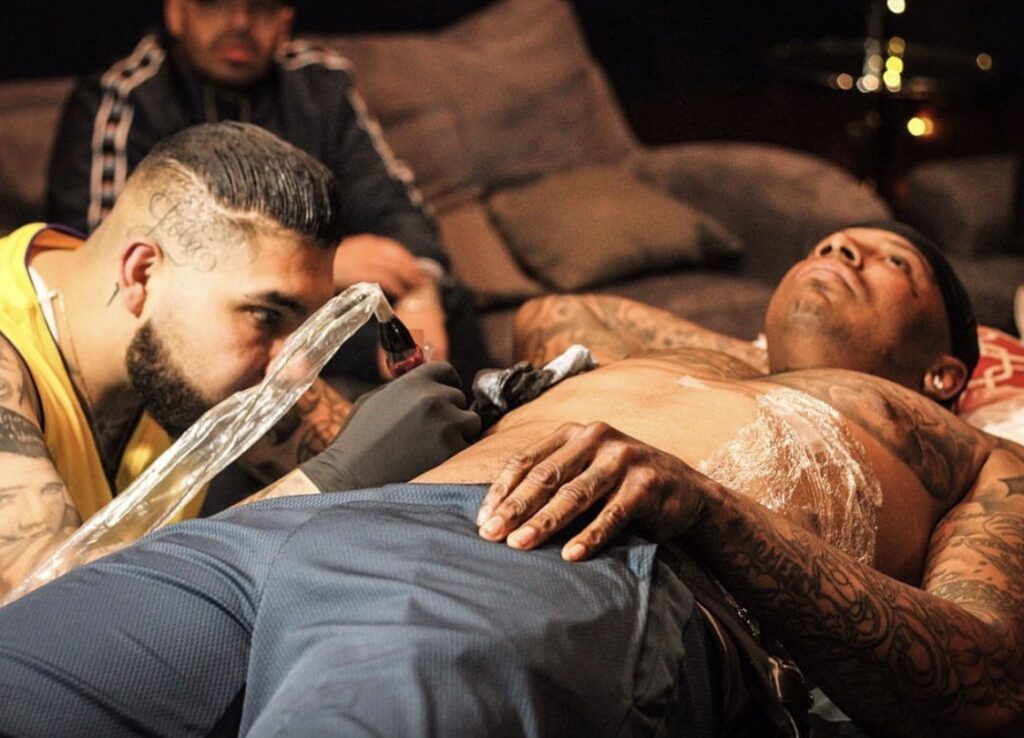 Interview: Herchell L. Carrasco
Representing his Mexican roots and putting his heart on your sleeve, Herchell L. Carrasco is the man to go to in California when it comes to eclectic tattoo pieces that stand the test of time. I caught up with Herchell to discuss recently tattooing Aaron Carter's face, putting in the work toward building his vision, tattooing 6ix9ine and his thoughts on his current standing, his dreams of collaborating with Netflix and more.

You have been creating pieces on a variety of clients including your most recent being Aaron Carter's face. Tell us about Aaron's initial approach with the idea and the process of tattooing this piece.
Originally I was called to do work on Aaron's torso and when I arrived I was told we'd be doing a face tattoo. I'll be honest I thought we were only going to pull off a fake face tattoo video and after the stencil was applied Aaron told his followers on IG Live we'd be tattooing his face!
I assessed the situation and I determined that the "I Want Candy" star was in the right state of mind to receive his tattoo. I responsibly talked him out of a more dramatic placement and convinced him to place it off to the side. The Medusa design was inspired by Versace & we meant to go for a high fashion look.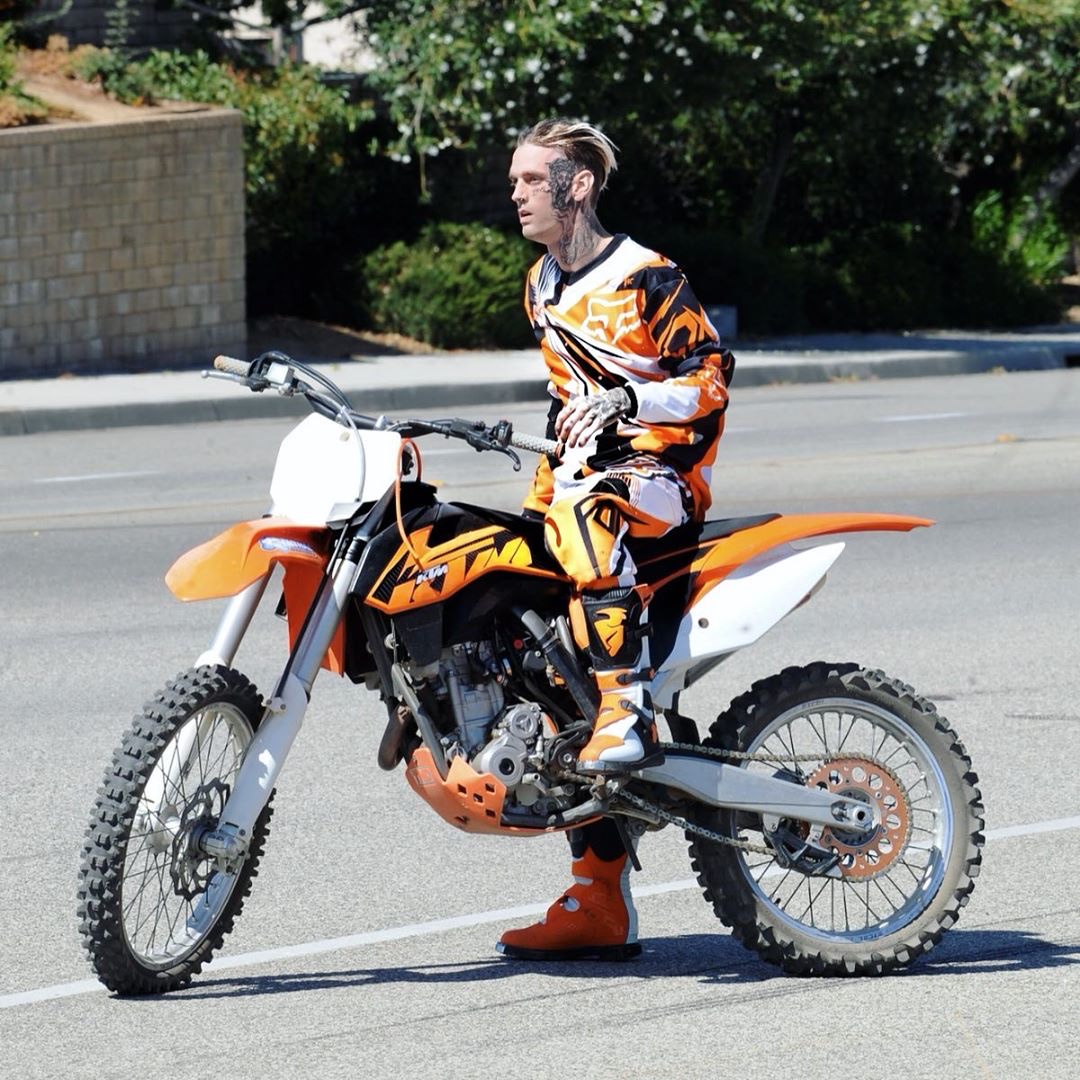 Tell us about when you first started tattooing and how your career has taken on to land you clients such as players on the Los Angeles Lakers, Lil Skies, Blueface, Tekashi 6ix9ine,Trippie Redd and many more.
My vision has always been to tattoo celebrity clientele and to collaborate with the biggest brands in the world. I was inspired early on by Mister Cartoon who was tattooing the biggest names in HipHop over 10 years ago. I am here today by keeping a consistent work ethic, networking in the right environments & honestly just being true to myself building REAL relationships with people. I've worked long and hard, made sacrifices and working for free early on in my career for branding and exposure. Blood, Sweat & Tears.
Let's talk about your personal opinion behind what's going on with 6ix9ine. Being that you tattooed his face and were able to spend some intimate time with him, tell us about your experience then and what you think about the legal troubles 6ix9ine is facing now.
My personal experience with 6ix9ine was a memorable one. I'll be honest, most of my friends and family do not like him and I receive negative backlash for working with him. Tekashi in person was not the troll you see in public, I met a real dude who was polite, easy going and likeable. He paid me well for the session, he let me get pictures with my crew and also sent me a Thank you text the following morning. My opinion is that he shouldn't have gotten involved with gangs and the wrong people, I hope this a lesson to him and kids coming up in the music game; stay true to self.
Aside from his public court drama, I still believe he can be successful when he gets out, he may have to change his music style or transition into the spanish genre. We've never seen an Artist like 6ix9ine and I believe he has the ability to adapt and change his image and become a bigger star.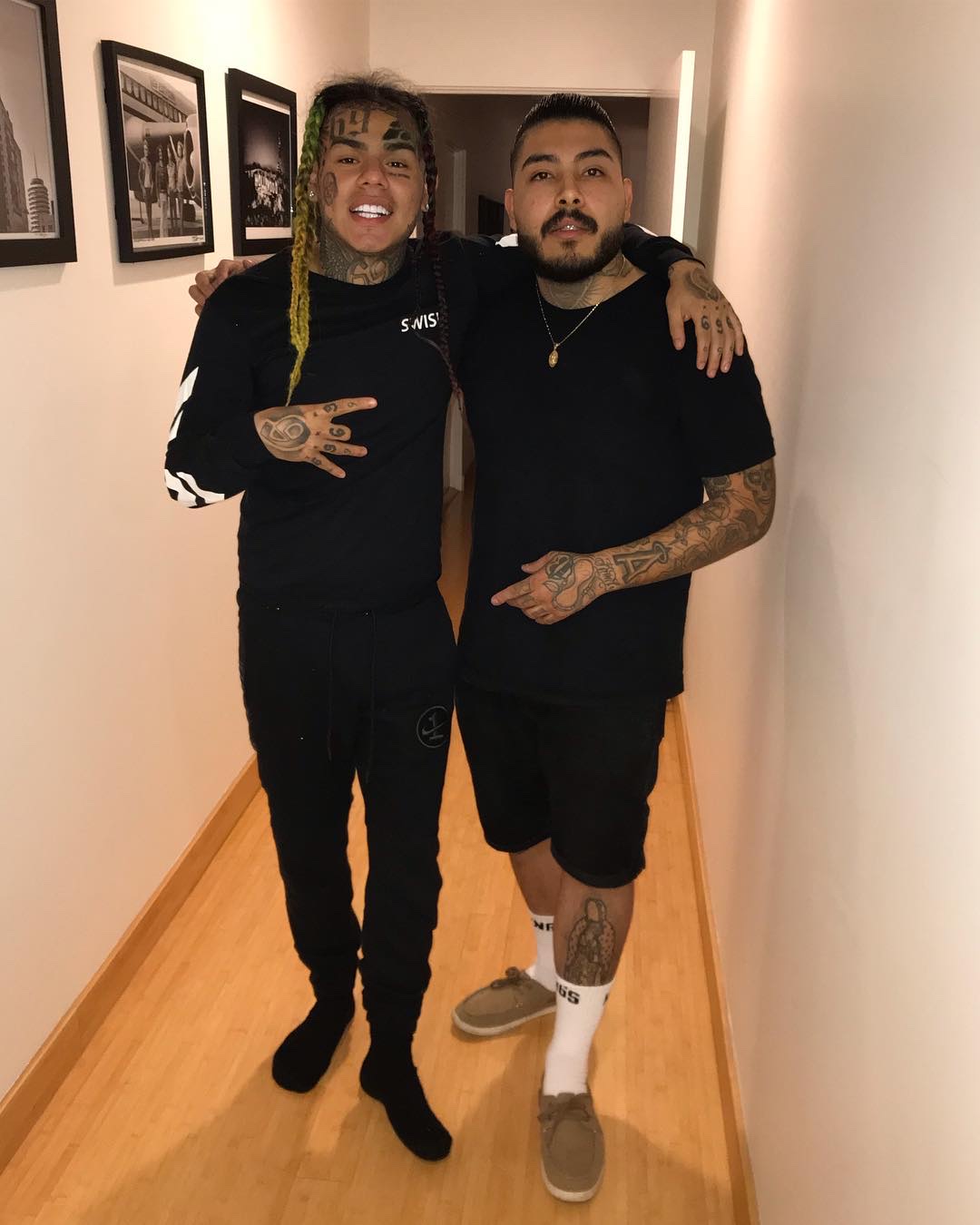 If you had any words of wisdom to share with fellow tattoo artists that are in the midst of trying to get a big break, what would you say?
I firmly believe in the 10,000 hrs Theory. Whether you're an Artist, Musician, Athlete, whichever; if you commit to 10K Hrs or 10 years of time into your work, that is when your hard work pays off and you reach a level of mastery. Don't compare yourself to others, stay consistent, put your 10K hours in and just believe!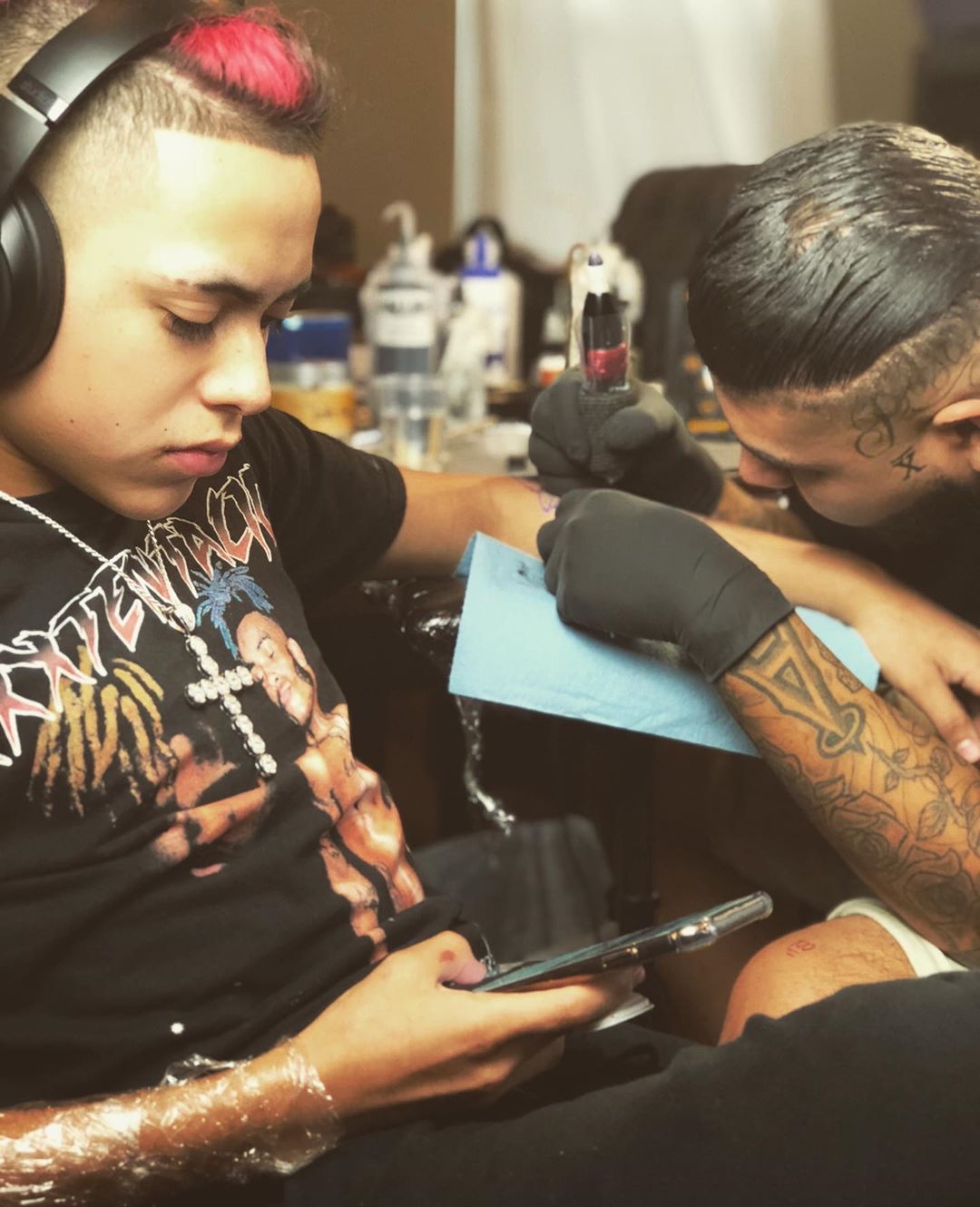 Tell us your top three favorite albums that have come out in 2019 so far and what you currently have in rotation at the shop.
My Instagram handle, @RockRollG, comes from an oldie by Aalon "RocknRoll Gangster" so I grew up on oldies, doo wops & soul. My albums in rotation at the shop released in 2019 are….
1. Durand Jones & The Indications – " American Love Call"
2. Dreamville – "Revenge of the Dreamers III"
3. Young Thug – "So Much Fun"
Being that you live in California, what's your current favorite strain that you're smoking on?
Quality Control Cannabis " Wedding Cake Indica" is my favorite at the moment. I love anything from Westcoast Cure and I love the convenience of the Stiizy Pen.
Tell us about your dream brand sponsorship that you would love to ink a deal and partner with to further your career as a tattoo artist and public figure.
My dream is to collaborate with Netflix. I'd love to have a show that showcases the chicano tattoo approach with celebrity clientele, no show out there represents the mexican american art that influences tattoo culture. I'd love to do a collaboration with Disney or Vans as well!
Last but certainly not least, fill in any potential clients with tips on how to get tattooed by you and any last messages for your fans.
My Books are OPEN! People think I only tattoo celebrities but the truth is you can still find me at the shop daily. My shop is Pachuco Tattoo in Orange County,CA. Feel free to stop by the shop if you're local. I can also be reached by direct message on Instagram or email

RockRollG@Yahoo.com

.
Just want to thank everyone who recommends me, everyone who gets tattooed by me. Thank you to my Shop Crew, Family ,Friends and my management Ashton Kingg. I'm still that young mexican kid who would alienate himself and draw all day and day dream. To the kids, Anything is possible…..Si Se Puede