Cleveland Musician, Layzie Bone, has indented his legacy into music culture through creating an artistic movement over socially charged bars that dig deep into listeners scars. As a vital member of one of the most impactful and worldly conscious groups of all time, Bone-Thugs-N-Harmony, Layzie Bone continues to enamor the streets with food for thought and poetically prophetic lyricism that educates, ignites, uplifts and shifts the globe. In celebration of the release of 'Wanted Dead or Alive', I had the honor of catching up with Layzie Bone for an inspiring conversation about his intention behind the release, taking pride in fatherhood, creating timeless art that carries an impact beyond the music, wise words from Eazy E about choosing to take on a social responsibility as a rapper and more.

Congrats on the recent drop of 'Wanted Dead or Alive'. Tell us about how your life experience continues to flow fluidly through your lyrics and the meaning behind this release. 
Thank you. I come from the street era of Rap. NWA, Geto Boys, the late 80's and early 90's; those were my high school days. Actually coming from the streets I always felt it was necessary to kick facts in my music; the real of what's going on in my life and in the world. Like Eazy E once said, "I'm a street reporter", I tell it like it is and call it how I see it. FACTS! NO CAP! The meaning behind 'Wanted: Dead or Alive' is simply saying my music will live on as a part of my legacy for eternal. Well beyond my time on earth. I make timeless music!
Being from the Midwest between your solo work and your BTNH work, you continue to portray a perspective that tells the truth behind day-to-day life for many within your music. Tell us about how Cleveland has helped shape you as an artist. 
Cleveland has shaped me not just as an artist but as a man. Anybody from Cleveland will tell you life ain't easy in the Land, you got to be hard; you can't be soft or you will get devoured. From having to sell drugs to merely eat, from the lack of resources that's provided for the inner city and public schools system to the racist and overzealous police departments we have to deal with and all that, I could have easily been a Tamir Rice (RIP) and condolences to his family.
Hip Hop/music was my way out; it saved my life.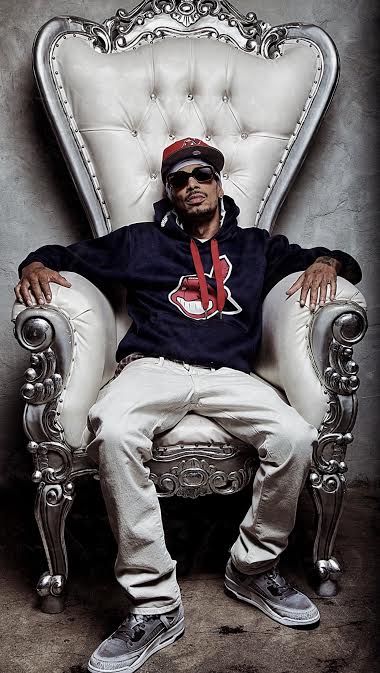 Showcasing the human in you, what is a challenging thought that you had recently and were able to overcome over time? 
I've always thought that people never really were genuine, like there was always an ulterior motive for someone wanting to help me or do good by me or my family. I had to do it myself. Not letting people truly know how I feel personally. Trust issues. I still struggle with that but I know now that I'm older that there are good-hearted and pure people in this world and I try to embrace that. I trust that God will order my steps and lead me to and through whatever my lessons are, good or bad.
What is your perception of the digital world that we live in and social media culture?
At first I didn't like it at all I felt it divided us as a people, that it sped us up to the point that we lost our morality. But now, I love it especially from the POV of my business I get to be independent on a level of controlling my destiny. We made a lot of people very rich! Of course social media has its pros and cons but that's with everything. So I just take advantage of what benefits me and my family and block out the dumb shit. 
No career path or amount of followers negates the fact that you are a human being that has feelings. Tell us about some parts of you beyond being a musician that you take pride in. 
I take pride in my children. They mean the world to me. To see them grow and become respectable and responsible people is everything to me. Their behavior and mannerisms are the indication that I've done something right on this earth. I'm thugged out but I'm just as emotional; to see real love melts my heart.
If you could sit down and have a conversation with someone who has guided you through your journey as an artist, who would you choose and why?
Of course Eazy E and mainly because he saw leadership in me even though we had such a brief time together. I just feel I would be up there with the richest in the game if we had more conversations. Another person is Russell Simmons. He allowed me to be a part of his Hip-Hop summits awhile back and that really stuck with me. I've always admired the CEO's of the labels; the James Princes', Puffys and Master P's–the leaders and shot callers. Uncle Rush gave me knowledge in that little time I spent around him. I don't think he would know how much he affected me with the financial literacy I learned when he was starting the rush card and we were rocking Phat Farm. He's a Legendary Hip Hop Pioneer.
Going back to when you were 12-years-old, if you were stuck at home as we were at the peak of COVID, what would your 12-year-old self be doing?
If I was 12 with all this happening in the world I would've more than likely been hard- headed and not stayed at home. I would've had to get this dope off! Seriously it would've been Xbox and I would've written a thousand raps for real.
Last but certainly not least, any closing messages for your fans?
I just want to say that I greatly appreciate all of the support throughout the years and I thank each and every last person that ever purchased or even appreciated Bones music for affording me the life to provide for my family through this music I genuinely love y'all ✌🏽✊🏽🙏🏽. I wish everybody peace and blessings. 
Layzie Bone Social Links: